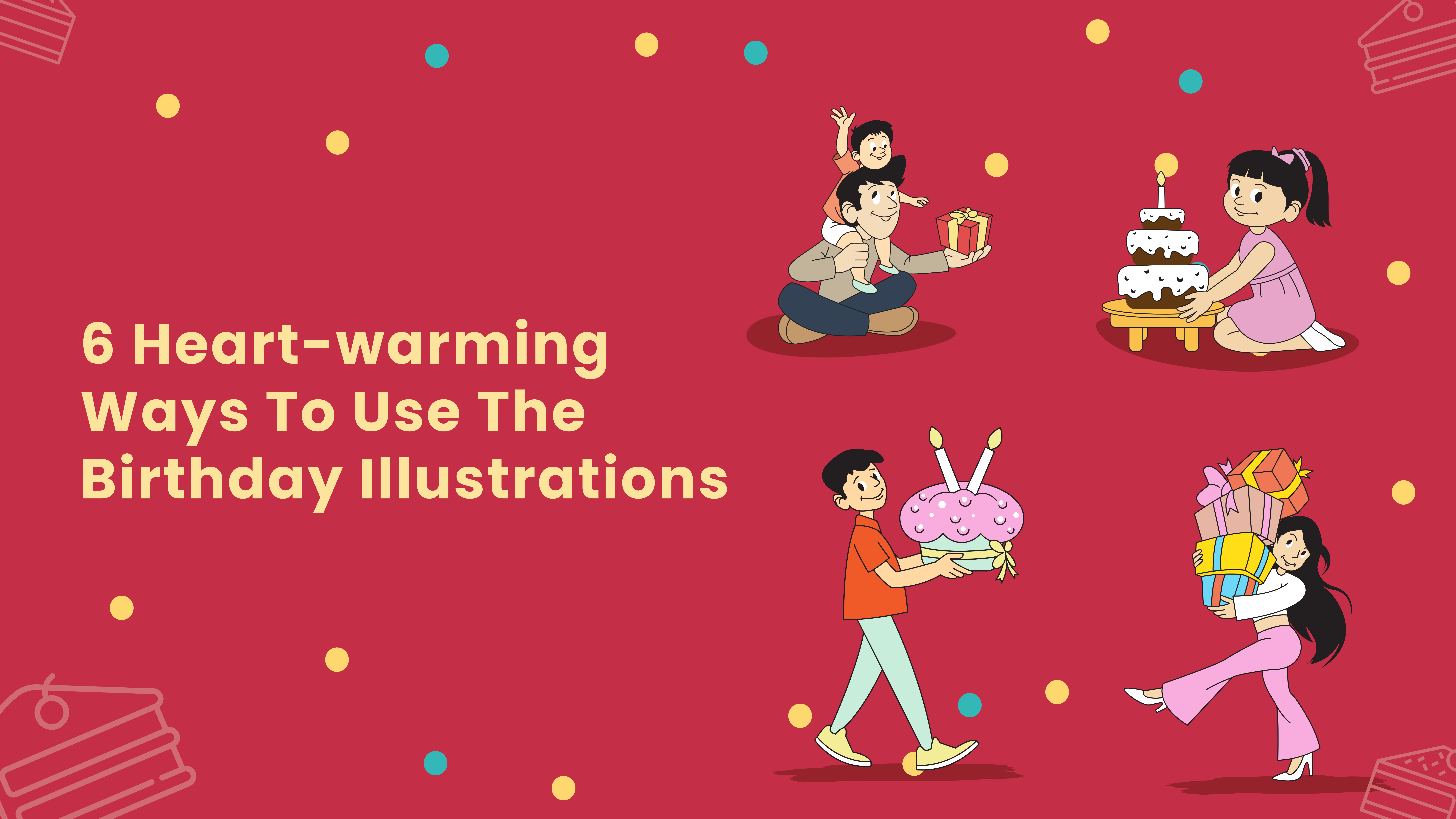 6 Heart-warming Ways To Use The Birthday Illustrations
May 5, 2022
Do you need some unique design ideas for celebrating birthdays?
A birthday is a celebration of life. So why not make this special day memorable with some unique ideas that capture the celebratory spirit?
Here, I'm talking about birthday illustrations that have the power to make anyone smile instantly.
In this article, I'll introduce you to the Birthday Illustrations pack by DrawHipo and discuss six heartwarming ways to leverage them, along with examples for your inspiration.
What Will You Get Inside Your Birthday Illustrations Pack?
Inside the Birthday Illustrations pack by DrawHipo, you'll get twenty Solo and ten Scene royalty-free and premium birthday-themed Illustrations. Birthday celebrations with family, grandparents with their birthday cakes in hand, birthday celebrations with pets, fathers giving gifts to their beloved children, gifting life partners, and whatnot. The vibrant color palette in these adorable illustrations spreads a cheerful and fun vibe. They are fully editable as you can change the size and color of the illustrations just the way you love or need. Your kids, life partner, parents, grandparents, and pet – no matter whose birthday it is, you will get illustrations for them and create something special for them. Each Birthday Illustration is available in high-quality SVG, AI, and PNG file formats. They won't pixelate whether you use them digitally or print them for offline use.
A Closer Look Inside the Birthday Illustrations Pack
Let's look at some of the appealing and lovely Birthday Illustrations.
Solo Illustrations
Scene Illustrations
6 Attractive Ways To Use the Birthday Illustrations
You can use Birthday Illustrations by DrawHipo for your personal and commercial projects. I've covered six different ways how you can leverage them.
Birthday Cards
Your loved ones deserve something more than a quick Facebook or Whatsapp wish. Your busy schedule shouldn't restrict you from uniquely wishing your near and dear people.
Use these Birthday Illustrations and design customized birthday cards for them in digital or print format. If you print them, your handwritten note with genuine heartfelt wishes in the birthday greetings card will make their day unforgettable. Otherwise, go to your favorite design software, add these illustrations, and type in the wishes and words straight from your heart. And you're all set to witness their precious smiles.
Get inspired by the following beautiful birthday cards.
Birthday Invitation Cards
Are you planning to throw a special birthday party for someone close to your heart? Have you thought about any innovative birthday invitations idea?
See, everyone close to you might want to be an important person you are interested in inviting to your party. How do you do that?
By sending out-of-the-box birthday invitations, you can further strengthen your relationship with the receiver. They'd love to keep the cards as a memory.
Birthday Gift Card
Including a personalized card is a beautiful addition to a birthday gift. It will add an extra personal touch and make the gift unique. The birthday girl or boy will quickly know who the gift was from.
For your inspiration, you can present the following birthday gift card to the person you share your life with and get ready for the appreciation.
Personalized Mug
Almost everyone likes to begin their day with a hot beverage. In that case, gifting someone, a customized mug will build an even more strong emotional connection with it. This beautiful piece is perfect for someone who prefers something useful and versatile things to give as a gift. So, whether one works from home or from the office, this mug will be their constant.
Just imagine how special and happy your recipient- be it your parents, best friend, or favorite aunty would feel while having tea or coffee from a mug personalized especially for them.
Look at the customized mug below.
How cute and loveable it is!
Birthday Party Menu Card
Give a glimpse of the menus for your grand birthday party to your guests in a creative way. Use these Birthday Illustrations and show your creativity and have fun.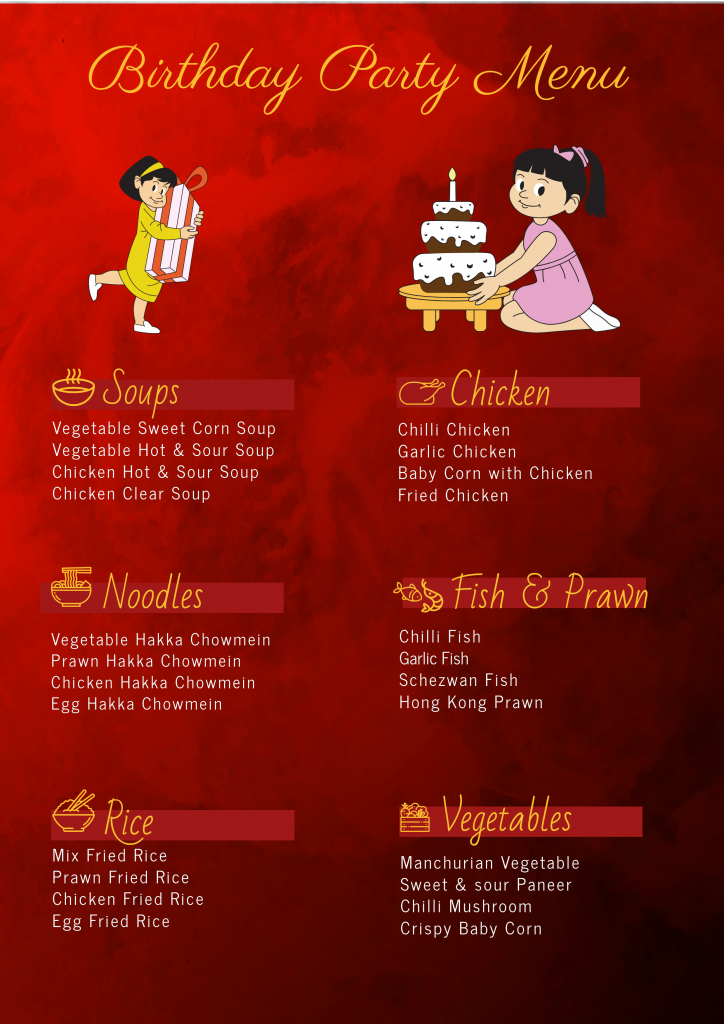 Personalized T-Shirt
Another fantastic way to leverage Birthday Illustrations is gifting someone a customized T-shirt. You know your loved ones the best, so choose the most suitable illustration to design the personalized T-shirt and make them overwhelmed with joy.
How To Get The Birthday Illustrations Pack?
There are endless ways to make someone's birthday special by leveraging these Birthday Illustration packs. Now it's time to tell you how you can get your hands on these illustrations.
Choose the Birthday Illustrations pack and then add it to your cart to purchase. And the design assets are all yours, and use them the way your heart desires.
Wrapping Up
I hope you found the above birthday-themed designs beautiful, creative and fun. So explore the Birthday Illustrations pack and try something new. Creating something for yourself or the ones you care about will always give you joy. Come up with your ideas to surprise your loved ones on their birthday by making something creative and unique for them. Your efforts will add more value and happiness to your heartwarming wishes and be cherished forever by them. Think about whose birthday is approaching, and get set to create!