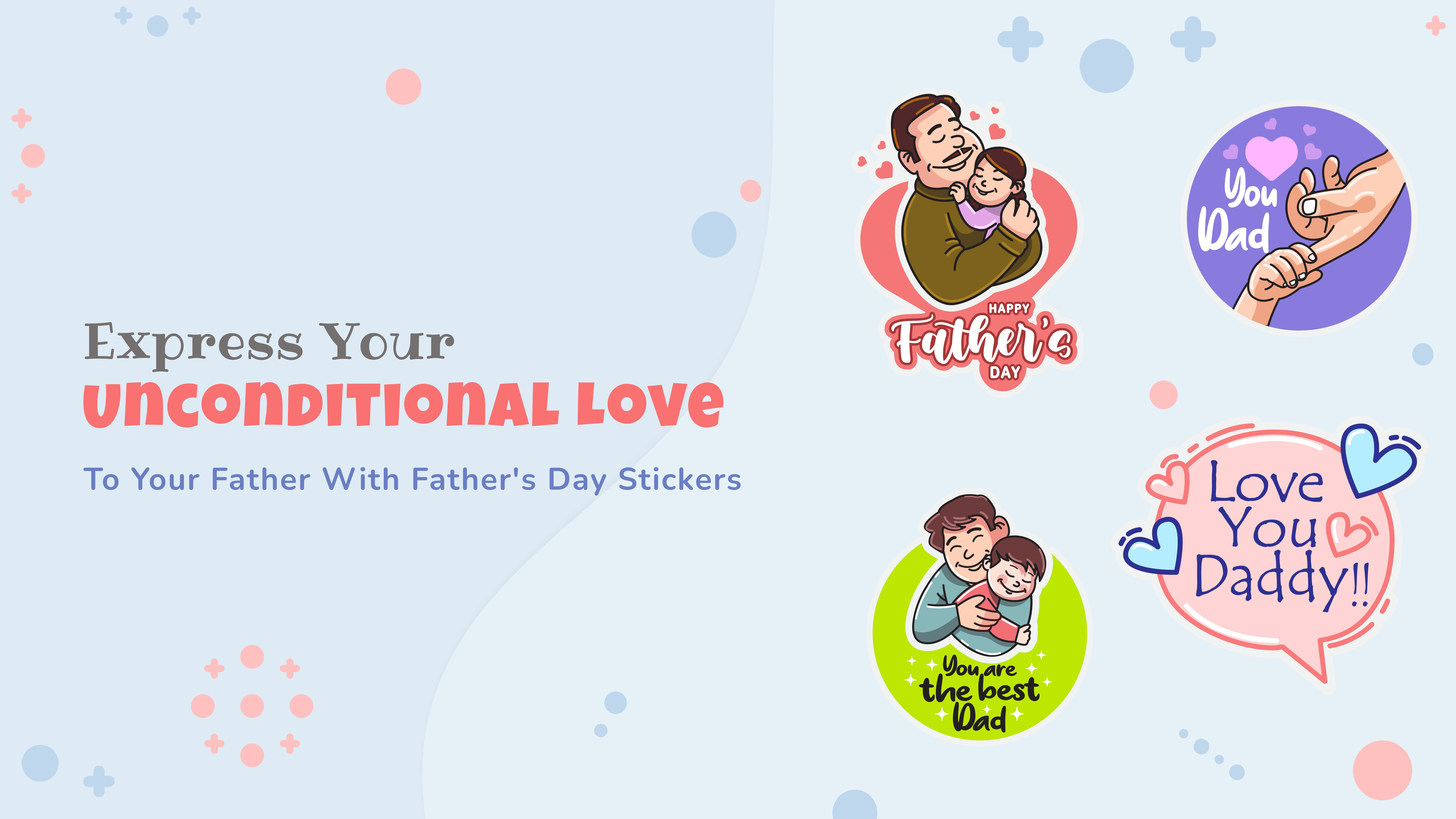 Express Your Unconditional Love To Your Father With Father's Day Stickers
Jun 18, 2022
Father's Day is just the next day. Do you need unique and memorable ideas to express what your father means to you?
I'm sure you want to make your father feel special and celebrate the presence of all the father figures in your life.
In this blog post, I'll introduce you to the Father's Day Stickers pack by DrawHipo and talk about six heartwarming ways to communicate your love for all the father figures in your life. The exciting part is that I'll also share fourteen designs for you to get in the flow of creating something unique for the super-heroes of your life.
Let's get started with the contents of the Father's Day Stickers pack.
What Will You Get Inside Your Father's Day Stickers Pack?
The Father's Day Stickers pack by DrawHipo contains thirty sparkling, appealing and adorable Father's-Day-themed premium royalty-free stickers with a design that will melt your heart. 
Each sticker comes in SVG, AI, and PNG file formats. They are editable so that you can leverage them in your personal and commercial projects as needed. You can change the colors of the stickers to suit the needs of the documents you're designing. The quality is not compromised even a bit while you resize the stickers as required.
6 Ways To Use the Father's Day Stickers
As a business owner, you can create beautiful, heart-melting designs with DrawHipo's Father's Day Stickers and share them with your community. These will get you more comments, mentions, tags, etc, in the form of your post engagement. 
Now, there's no need to mention how you can use our Father's Day Stickers for personal use. Whether you design a Father's Day card or any social media post or anything, confess what you feel about your dad. Make sure your heart's feelings for your dad reach him but in style. A superhero, super dad, coolest dad, leader – whatever you think about him, convey all your love and message with our Father's Day Stickers pack. Let's see some use cases to take inspiration from.
1. Facebook Post
You can wish your father on your personal Facebook profile and tag him. Also, as a brand or business owner, you can share Father's Day Posts on your company's Facebook page with your followers. Check out the below Father's Day Facebook Posts designed by incorporating our Father's Day Stickers for some creative ideas.
Look at the sparkling Father's Day Sticker with beautiful fonts expressing, "Dad YOU ARE The Best."
Now, look at the sticker conveying such a memorable, relatable moment of a child with his father. The father carrying his son on his shoulders seems so appealing. Also, the lovely confession "DAD IS MY HERO" is attached to the sticker.
The happy and nostalgic vibe of the sticker will make your father happy with teary eyes, and you, together with him, can walk down the sweetest memory lane!
Next, we have a Father's Day Sticker for a daddy's girl. This one conveys the love, comfort, and peace you feel while embracing your father. Isn't it?
Also, the color choices and the beautiful fonts used for wishing a "HAPPY Father's DAY" looks bright and eye-catching.
Tell me, is your dad the coolest in the world?
If yes, let him know that you love him the way he is with this sparkling and cool Father's Day Sticker.
2. Instagram Post
Your potential followers, customers, and existing ones will definitely notice your efforts to be consistent on every occasion. Also, the lovely stickers that you'll be using will act as a cherry on top because your Instagram Posts will present never-seen-before designs and help you stand out.
The Father's Day Sticker used in the Instagram Post below highlights the word "HERO" in a retro style and sparkles around it. And it's followed by a sweet, simple, and elegant design.
I just love the beautiful fonts of the 'Happy Father's Day' wish and the appealing red heart shapes in the Father's Day Sticker below. Leverage this one the way you please.
3. Instagram Story
As a business owner or marketer, uploading Father's Day Instagram Stories will improve brand visibility and interactions with your followers.
Look at the below Father's Day Sticker with an adorable and appealing father-son duo in it. Just see the cute little hearts designed around them in the sticker to showcase their lovely bonding.
Grab this sticker, head on to your go-to design software, and make the best use of it by adding design elements that you always find your dad with. There's no harm to using it just above a simple, neat background. After all, the most important things are your love and care with which you design for him.
Let your dad know how great a person he is with the Father's Day Sticker below.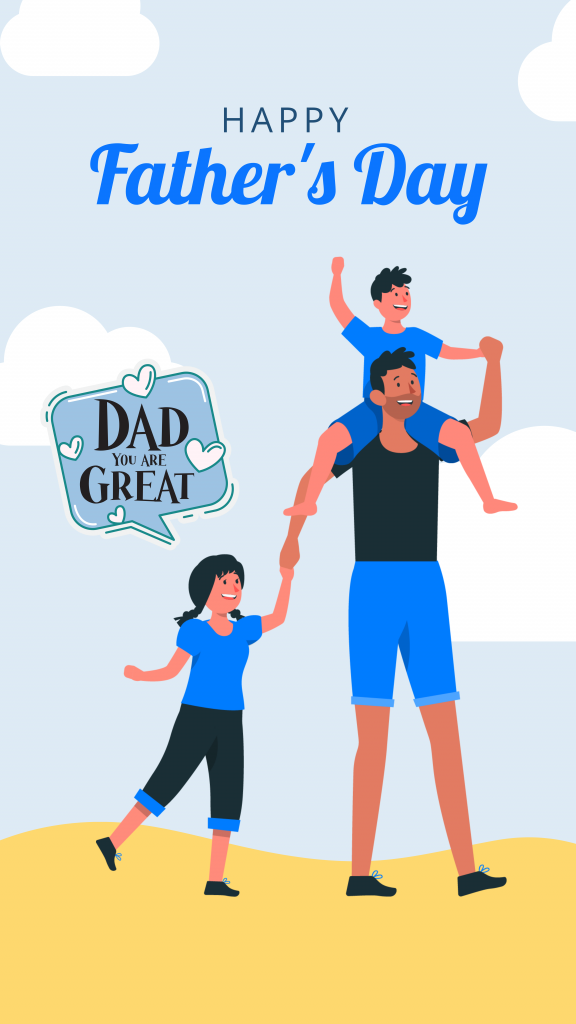 4. Father's Day Card
After getting access to our Father's Day Stickers, go to your favorite design tool, and incorporate the sticker and other elements that relate to your dad. The sticker we used in the below Father's Day Card has a 'Thank You Daddy' message attached to it. 
In the below Father's Day Card, the pink heart wishing "HAPPY Father's DAY" looks so appealing and eye-soothing with little hearts in and around them.
5. Personalized Mug 
How about gifting a personalized mug with a special Father's Day Sticker in it?
He can start his day with a freshly brewed coffee in it, and the design will always remind you of the bonding you share with him.
Tell your dad that he rocks in everything he does with this cool Father's Day Sticker.
Your dad will always use this with pride and the happiest face after his lovely son or daughter has gifted it to him.
6. T-shirt
Choose any design that you think is the best for your dad and print it on a T-shirt. Also, why give one? You can gift him as many T-shirts with a variety of stickers as you wish.
See, this smile could be your dad's while wearing your personalized T-shirt!
How To Get The Father's Day Stickers Pack?
Hopefully, just like me, you also found all the above designs appealing and heart-warming. The possibilities of using the Father's Day Stickers are never-ending. Let me tell you how you can get these beautiful stickers designed with love.
Select and add our  Father's Day Stickers pack to your cart. After purchasing the design assets, you can use them wherever and however you desire. 
Wrapping Up
Make your followers fall in love with your beautiful and never-seen-before posts and designs by incorporating the Father's Day Stickers. Take inspiration from the above designs and surprise your dad with your creativity! Your little efforts will go a long way, be it in your personal and professional life.