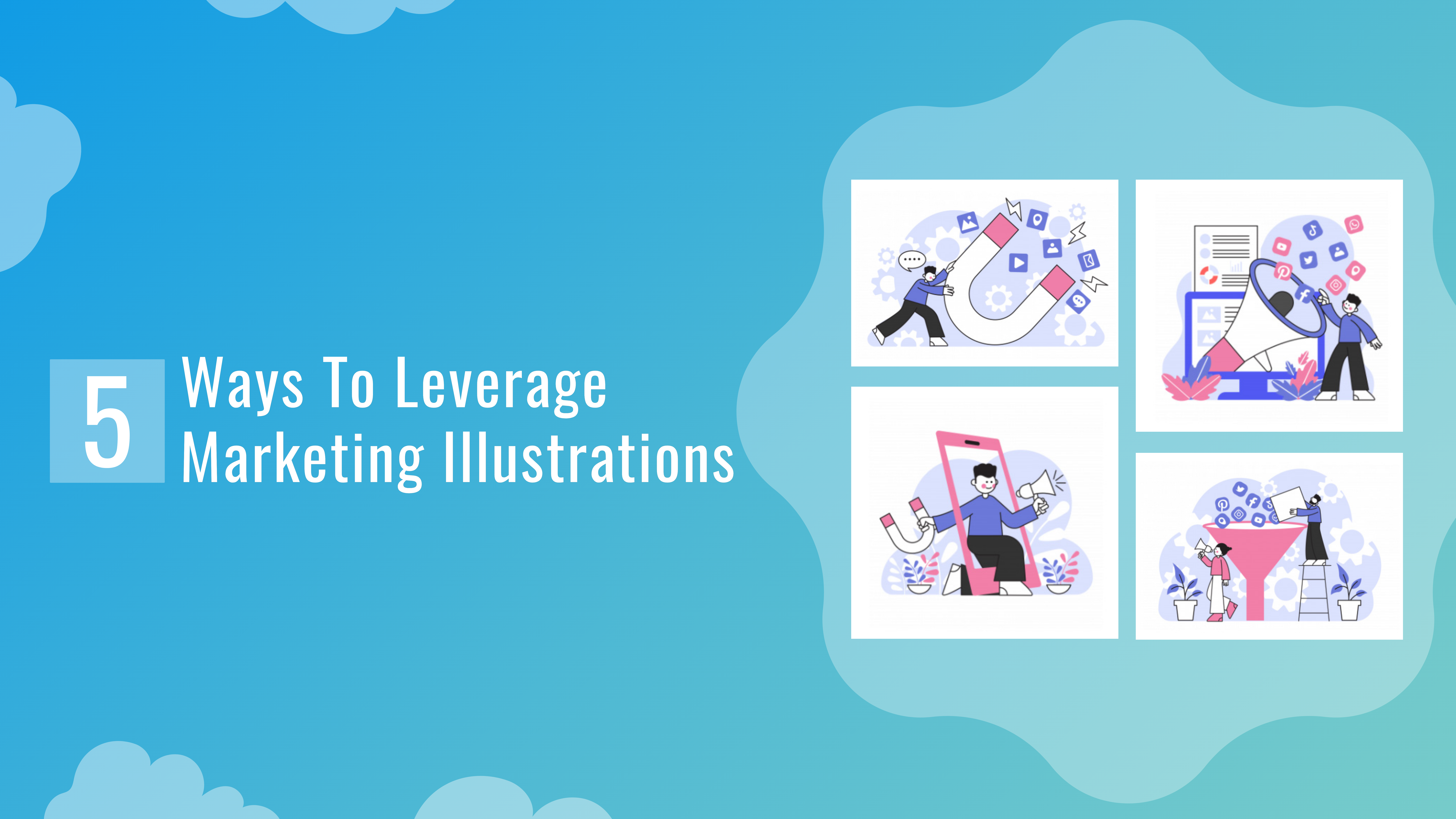 5 Ways To Leverage Marketing Illustrations To Boost Your Brand Awareness
Mar 22, 2022
While running a business, regularly coming up with excellent quality content for your target audience can be hectic.
Finding the right design elements that align perfectly with your marketing and business-related content is tedious. But designing any document for your brand shouldn't take all day long. So what's the solution?
What if you get the appropriate design elements whenever you create content or design any document that makes them look attractive and ready to make the impact you want?
In this article, I'll introduce you to the Marketing Illustrations pack by DrawHipo, and discuss five use cases on how you can leverage them to enhance your brand awareness.
What Will You Get Inside Your Marketing Illustrations Pack?
Inside the Marketing Illustrations pack by DrawHipo, you'll get twenty Solo and ten Scene premium and royalty-free marketing-themed Illustrations with a soft, subtle yet bright color scheme. The muted color palette in these illustrations will add a relaxed vibe to your educational or promotional posts. You can change the colors of your illustrations to match your brand colors. They are fully editable and super-easy to use for your personal and commercial projects. No matter what document you design with these illustrations, they won't pixelate. The pack is offered in high-quality SVG, PNG, and AI file formats.
You need to go to your favorite design software, add your amazing content, and incorporate these marketing illustrations into the design. They are perfect for designing a wide variety of marketing collaterals that we'll discuss in detail soon.
So your hassle of designing is sorted. Now you can invest your valuable time building your brand and growing your business.
A Closer Look Inside The Marketing Illustrations Pack
Your marketing and business-related content don't have to look serious or too professional. They can be cute and adorable too. Your audience just needs to understand the message you want to convey. So keeping it professional, you can make your design more engaging by experimenting with these marketing illustrations featuring hard-working cute characters! It will give your marketing and business content a fresh and unique professional look and feel.
With these adorable illustrations, you'll have fun creating content for your lovely audience. Incorporate these illustrations in your design, and you'll always be ready with stunning graphics in no time.
Let me preview some of the unique designs available in the Marketing Illustrations Pack.
5 Effective Ways To Leverage Marketing Illustrations
The Marketing Illustrations Pack by DrawHipo is a versatile collection to use in any marketing collateral. Let's discover some of the possibilities where you can use these illustrations.
Flyers
Flyers are a commonly used effective marketing tool to inform people about your products and services. In the limited space of a flyer, using illustrations is an innovative way to communicate your message to people. So when you use eye-catching illustrations, it immediately attracts their attention. This fresh look will add uniqueness to how you're offering your products or services.
Let's see the example of a full-service digital marketing agency advertising its services using the flyer below.
Posters
Posters are another marketing tool responsible for attracting eyeballs and conveying your key message to people in a hurry. You can use them to create or improve your brand awareness, express your ideas, advertise your products, services, offers, etc.
It needs to stand out to get your message across. Illustrations are a great way to get this job done as they are visual stories that will support your idea and be interpreted easily. This incredible communication medium will make complex things easily understandable and make your brand effortlessly memorable to your target market.
You may check out How Visual Marketing Can Help You Grow Your Business.
Have a look at the poster designed for a marketing training academy.
Infographic
Infographics are a powerful way to break the large chunks of text and present information much more interestingly. With the use of persuasive graphics, Marketing infographics can be used for educating your target audience about your business.
Using these marketing illustrations in your infographics will help you tell your brand story and engage your audience.
Look at the marketing infographics below, featuring the marketing illustrations by DrawHipo.
Blog Graphic
The presence of custom graphics on your website will captivate your readers and show them your uniqueness. Creating branded images for your blog will make you stand apart, and your readers will know you beyond your logo, improving your brand recognition. Poor quality graphics will make a wrong impression on your target audience, making them think your brand is untrustworthy. These illustrations will act as storytellers, evoking emotion in your reader's mind. So you can smartly use these marketing illustrations to encourage more social shares.
Social Media Posts
Let's talk about Instagram for now. This visual platform offers many options for brands to market their products and services while building a loyal follower base. Instagram carousel posts are one of the most versatile tools to reach new target audiences, boost engagement and drive sales. Through this content format, you can share more in-depth information.
You can post your brand's how-to posts other educational or promotional content using custom illustrations. It will look more appealing and encourage your followers to interact with your brand.
Observe the use of marketing illustrations in the following part of the Instagram Carousel Post, educating their followers with the strategy of creating winning content calendars.
How To Get The Marketing Illustrations Pack?
By now, you've already got insights on how you can benefit from the Marketing Illustrations pack by DrawHipo. So it's time to use them in your designs.
Once you choose the Marketing Illustrations pack, add it to the cart to proceed. After purchasing these design assets, you can start designing your marketing and business-related documents right away.
Wrapping Up
The designs shown above give you an idea of what's possible with the Marketing Illustrations. You can integrate these illustrations to create any marketing-related document you want and improve your branding. Add a touch of uniqueness to your marketing and business-related designs with these adorable illustrations. Use your own ideas to experiment with and present your audience with something fabulous each time.