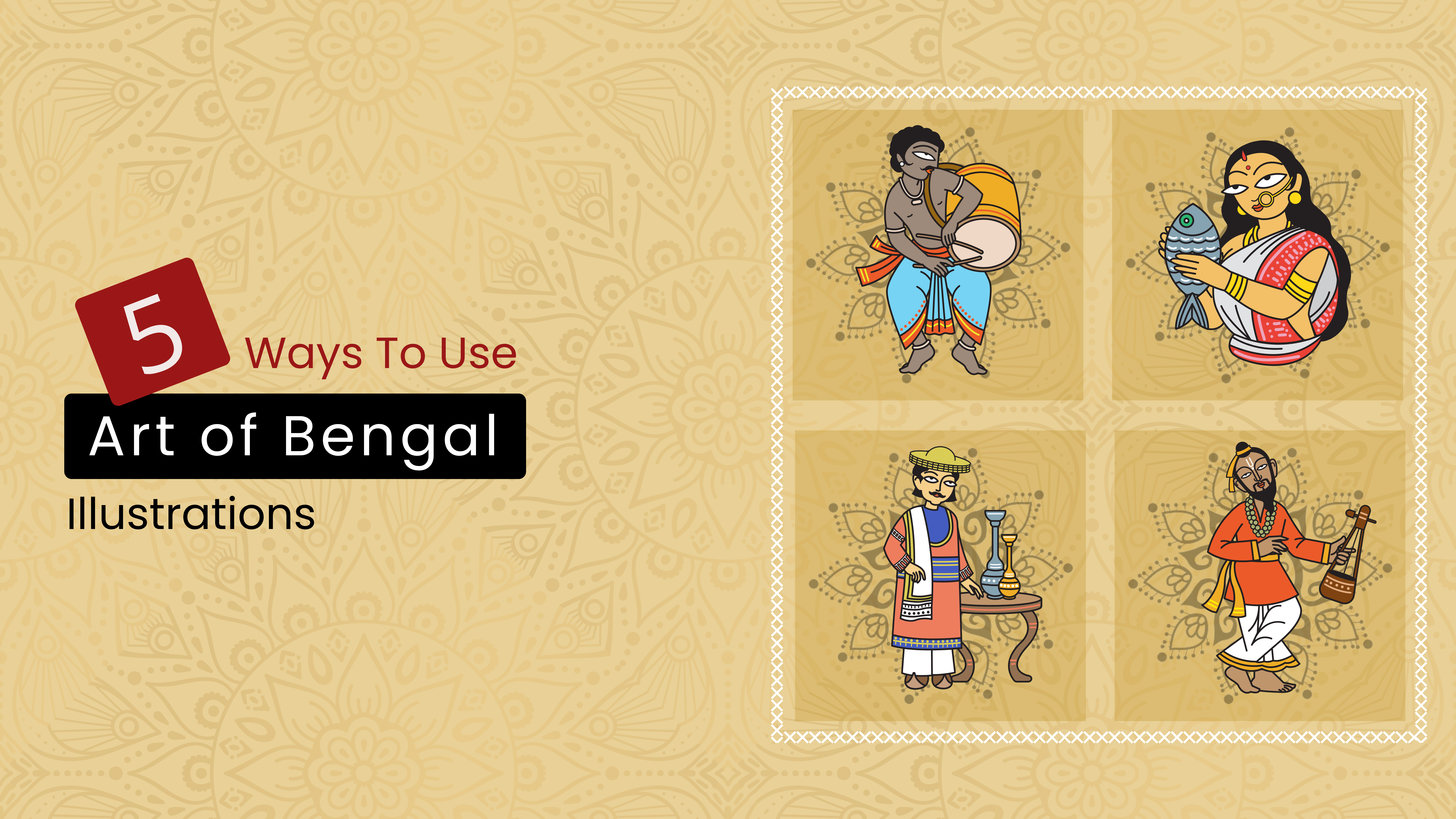 5 Attractive Ways To Use The Art Of Bengal Illustrations
Apr 7, 2022
You might already have used illustrations in your social media posts or different marketing collaterals for your brand or business. But the theme of the illustration that I'll be discussing holds utmost importance and is a rare collection.
There are certain wealth whose value is priceless. Here, I'm talking about Bengali art and culture.
In this article, I'll introduce you to the Art of Bengal Illustrations pack by DrawHipo, and discuss five attractive ways how you can use them and carry forward the rich culture and art of Bengal with love and pride.
What Will You Get Inside Your Art Of Bengal Illustrations Pack?
Inside the Art of Bengal Illustrations pack by DrawHipo, you'll get twenty Solo and ten Scene premium royalty-free Bengal art-themed Illustrations.
They are fully customizable and easy to use for personal and commercial projects. Hence, you can change the colors of the illustrations just the way you love or need. No matter where you use these illustrations, they won't pixelate. The high-quality illustrations come in SVG, PNG, and AI file formats.
You may go to your preferred graphic design software, incorporate these illustrations and then use them online or print them offline.
A Few Words About the Art of Bengal Illustrations
Our award-winning artists at DrawHipo have drawn the Art of Bengal Illustrations by drawing inspiration mainly from the pioneering Indian artist Jamini Roy's paintings. Jamini Roy, in turn, was most inspired by the Kalighat Patchitra (Kalighat painting). The charm of the folk tradition of Kalighat paintings is that they captured the essence of daily life.
The unique features of the figures in the Kalighat paintings are round faces, big almond-shaped eyes, and curvy bodies with firm contours. Being fascinated by this simple and beautiful style, Jamini Roy started focussing on rural India, especially the culture of the Santhal tribe of Bengal. Though his paintings started reflecting the same art style, he also added his own flavor and characteristics to them.
Jamini Roy's other sources of inspiration were terracotta temple sculptures of Bishnupur, traditions of Bengal arts and crafts, etc.
As you can see in our Art of Bengal Illustrations pack, we've portrayed the lifestyle of Santhals, influenced by the way Jamini Roy painted scenes featuring their lives.
While capturing rural Bengal's everyday life, he painted seated women, women engaged in their daily chores, mother and child figures, bauls. The ones that most powerfully captured the middle-class common people of his times were housewives, feminine images of gopinis, pujarinis, and mothers.
The other subjects of his paintings were the imagery of epics and mythology. Similarly, we present a beautiful and powerful illustration of Goddess Durga.
Now let's talk about some of the specialties or characteristics of Jamini Roy's paintings.
Use of seven vibrant and earthy colors – Indian red, vermillion, yellow ochre, cadmium green, blue, grey, and white
Flat color application
Dark-lined bold brush-strokes
Human anatomy with fluid geometry, unlike the proper anatomical drawing in European Arts
Keeping these things in mind, we have developed an art style that resembles Jamini Roy's.
Additionally, we've also covered the 'Babu culture,' without which the depiction of the art of Bengal would have been incomplete.
A Closer Look Inside the Art of Bengal Illustrations Pack
Let's zoom in on some of the appealing Art of Bengal Illustrations by DrawHipo.
5 Attractive Ways To Use the Art of Bengal Illustrations
Below I'm discussing and showing only five applicability of the Art of Bengal Illustrations for you to get inspiration. You may go crazy with its usage.
Book Cover
Book cover design visually represents an idea or a specific element from your book. It should let the readers and potential buyers know about the book's genre. Also, they should give an idea of the theme of the book.
Illustrations can do magic to attract the right target audience for your book. Illustrated book covers give a hint of what the book is all about. They draw your readers' attention through visual storytelling without them even needing to turn the first page. Let's discuss how using an eye-catching illustration on your book's front cover will be a boon.
Choosing the proper illustrations will make lasting solid impressions on readers even before they open the book to read.
Relevant, meaningful, and compelling illustrations can help you build an emotional connection with the target readers.
The images illustrated on the book cover speak a lot and visually interact with the target readers.
Ultimately, using the appropriate illustrations on book covers can help elevate book marketing and boost sales.
If you are an author or wish to become one, writing about the rich art and culture of Bengal would be a great idea. Then showcase your book's personality using an illustration that best represents the content of your book.
Wall decor
Ask yourself what you'd love to see on your walls whenever you walk into your room?
If you are fond of art photos, why not consider the Art of Bengal Illustrations?
Let Bengal art photos welcome you back to your sweet home or amaze your guests with something traditional, nostalgic, and beautiful.
Wall art illustrations add a personal touch to any room. You need an empty wall and beautiful illustrations to turn it into a stylish center of attraction. In this way, you can also showcase your love for the Bengal art forms with pride.
Customize and decorate your walls to be surrounded by things you love and adore from the core of your heart. Give your space or blank walls a refreshing and unique look and feel with something no one has seen before. Also, enjoy the process of decorating with these Art of Bengal Illustrations that reflects your choice.
Go ahead and explore the possibilities; your bare walls must be waiting to embrace the new addition.
Look at how we have decorated the room with the following Art of Bengal Illustrations by DrawHipo.
Isn't it beautiful and heartwarming?
You can also make it a gallery wall by choosing the Art of Bengal Illustrations you love.
Bag
You must have a bag that you carry to the market, bring in books, take it to the park, etc. Give that everyday use bag a makeover using our Art of Bengal Illustrations. Moreover, a customized bag with rarely seen illustrations could be a perfect gift for your loved ones.
The bag below features a detailed illustration of Goddess Durga, the "feminine epitome of strength."
Choosing the color of the bag as black makes the beautiful illustration pop up. Above all, The illustration of Devi Durga looks so beautiful on the bag. I'm sure you'd love to make it your go-to bag.
Calendar
So far, we've discussed three use ways you can leverage Art of Bengal Illustrations. Now, how about designing your personalized calendar with these illustrations?
An illustrated calendar is a unique and fantastic way to ring in the new year. Its versatility and attractive design make it perfect for office or home use.
So, go to your preferred design software and choose one calendar template where you'd love to use the Art of Bengal Illustrations creatively.
Pick any illustration you'd like for each month.
This simple and elegant design has incorporated everything you need in a wall or desk calendar, including a month-a-page, enough space for your brand logo, lines for notes, and last but not least, images or illustrations.
Pillow covers
It's a great idea to give a new look to the items you already use daily. This time I'm talking about pillow covers or cushions.
Pillow or cushion covers with these beautiful illustrations printed will be statement pieces you can't afford to miss out on. They'll enhance the beauty of the area you keep the pillows or cushions in – the living room, couch, sofa, bed, chair, bench, car window seat, coffee shop, or even office. It gives a regal touch to your home and creates a personalized environment.
Pillowcases with the Art of Bengal Illustrations are unique gifts for your loved ones on Mother's Day, weddings, birthdays, housewarmings, etc.
The eye-catching pillow covers depict beautiful tribal women and look so cute and adorable.
How To Get The The Art Of Bengal Illustrations Pack?
I believe you also found the above designs attractive and heart-melting, just as I do. So you see, the possibilities of using the Art of Bengal Illustrations are endless. Now let's talk about how you can get this amazing pack.
Add it to the cart once you choose the Art Of Bengal Illustrations pack. After purchasing these design assets, you can start using them whatever your heart desires.
Wrapping Up
I hope you found reading about Bengali art and culture interesting. Also, the designs created with the Art of Bengal Illustrations have touched your heart. So, explore the Art of Bengal Illustrations and think of where else you can use them creatively to cherish them forever. Use the ideas and come up with your own designs to showcase your love and support for the rich Bengali arts.