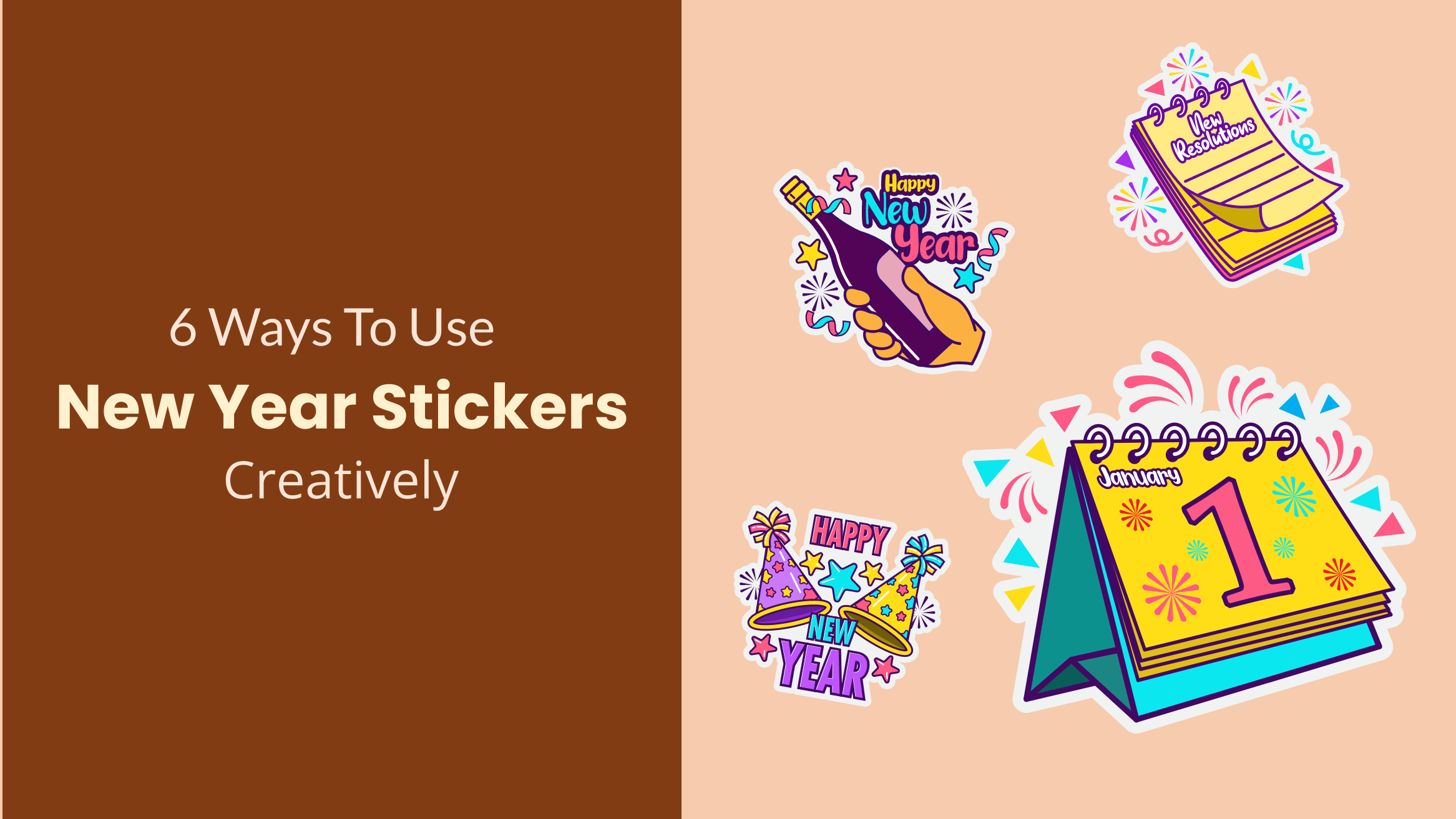 6 Ways To Use Happy New Year Stickers Creatively
Feb 2, 2022
Are you looking for a fun and exciting way to celebrate the new year?
Stickers are a fun way to communicate with your family or friends. However, the application of stickers isn't limited to exchanging them on WhatsApp, but it has become a serious business.
Suppose you are a business owner or work for one. In that case, you may already know that sticker is also an inexpensive marketing tool to reach new target audiences and promote your brand, having a significant impact.
In this article, I'll introduce to you the New Year Stickers pack by DrawHipo, and you'll also get six creative ideas on where you can use them.
What Will You Get Inside Your New Year Stickers Pack
The New Year stickers pack by DrawHipo contains thirty cute and sparkling New Year-themed premium royalty-free stickers in a color scheme that will cheer you up. You can change the colors of your stickers to suit your brand colors. The stickers are editable and easy to use for your personal and commercial projects or your clients' projects.
They are perfect for designing a variety of marketing collaterals and designing customized gifts for your loved ones.
Each New Year sticker is available in SVG, AI, and PNG formats. While designing any document with these stickers, they won't become pixelated, and the document you design will not lose quality when resized.
A Closer Look Inside the New Year Stickers Pack
Have a look at some of the lovely stickers from the New Year Pack.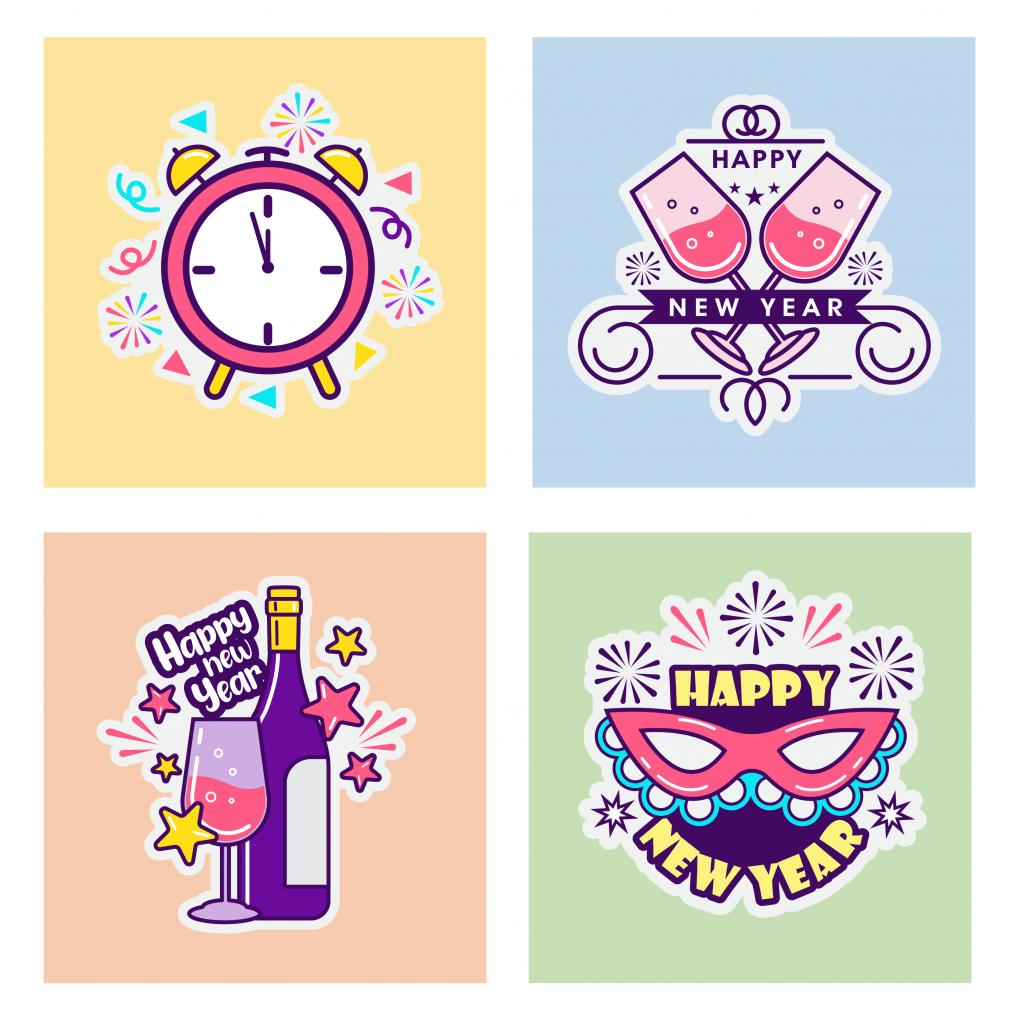 6 Creative Ways to Use the New Year Stickers
You can use the adorable New Year stickers just as they are or customize them as needed. Check out the following six ways you can use DrawHipo's New Year stickers and get some inspiration to kickstart your designing with a bit of effort and a lot more fun!
Happy New Year Card
Now exchanging new year cards has become a thing of the past. Why not relive those good old memories?
You can make eye-catching and adorable greeting cards with heartfelt wishes for your loved ones with DrawHipo's New Year Stickers pack.
The following greeting card features a cute little teddy bear sticker from DrawHipo, holding colorful balloons.
The sticker is editable as you can change the color however you like.
You can choose any sticker from the New Year pack depending on the person you are sending the greeting card to. Then, design with love, print it with ease, and wrap your good wishes with it in an envelope. Express your love and creativity to your family, friends, or co-workers using the stickers included in the pack.
Happy New Year Poster
With an impressive visual design and compelling copy in your poster, you can boost your branding innovatively. And effective use of stickers in the posters is a fun and creative way to spread your message.
So, promote your products in a memorable way by leveraging your New Year Stickers pack.
Check out the tips to Create Stunning Posters with New Year Greetings.
New Year Dinner Party Invitation
How about inviting your close ones to a (COVID-safe) New Year's Dinner party with self-designed invitations?
Invite your loved ones in a special way with a personalized heart-warming invitation. They'll definitely love your unique style. Make it quirky by adding the New Year Stickers as shown below.
Web Banners
You can design a variety of web banners like Blog banners, Facebook covers, Facebook event covers, Twitter headers, Email headers, and so on.
Have a look at the colorful and charming Email header below.
Social Media Graphics
Do you want your followers and customers to take advantage of any offers and special discounts you're running?
You can customize the New Year Stickers to use in your social media posts on Facebook, Instagram, Twitter, YouTube, etc.
Take a look at the Instagram Post that spreads its radiant vibes while conducting a sale.
Mug for Your Hot Beverages
Express your love for family and friends by surprising them with a customized mug. Along with a best captured moment with the recipient of your mug, add these stickers to make it more memorable and fun.
How to get the New Year Stickers pack?
Once you choose the New Year Sticker pack, add it to the cart to proceed. After purchasing these design assets, you can start designing right away.
Wrapping Up
Express the artist within yourself with these lovely New Year Stickers. You can also use the pack as your marketing tool to give your brand a new look and feel. Along with the designs shown above, use your ideas and add your personal touch to create fantastic designs, be it in physical format or digital.